#youneedtofollow @thebostoncal
By:
texasinboston
-
Friday, Mar 7, 2014 - 9:49am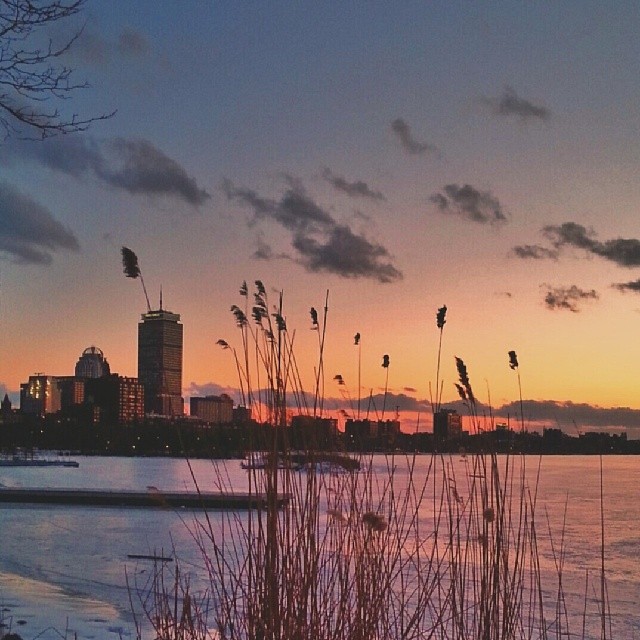 "Cold sunset on the Esplanade last night." Posted to IG by @brianmcw.

As you already know, The Boston Calendar launched an Instagram (IG as we in the biz like to call it) account less than a month ago.  We gained 332 followers and 75 posts in such a short amount of time!  Before we delve into our own Instagrammers (IGers), let's check out who we think you should be following.  This is my biased list of the Top 10 Boston-Based Instagrams:
@boston – if you were able to get boston as your username… you probably should be on this list. Although, who can deny multiple scenic views of Boston during sunsets with some intense IG filters
@notifyboston – if you want to catch a glimpse into the life of Mayor Marty Walsh who occasionally does social media Q&As #askmjw
@bostontweet – although his Twitter account is what he is known for best, you can catch his life in pictures which is "about loving life, beers, and burritos in Boston." Can't go wrong with those three
@harpoonbrewery – everyone's favorite brewery has the best tagline: "Love Beer. Love Life. A "follow" confirms you are of legal drinking age (21+ in US)"
@dunkindonuts – lets point the obvious here, who doesn't want to look at pictures of Dunkin cups with a bow tie? #truestory
@dineoutboston –previously known as restaurant week, they post pictures of food that makes me cry…while at work… eating my boring salad, better get started on those rezzies!
@patriots – while all the Boston sports teams should be followed, I think this one takes the cake because they post pictures of Robert Kraft with the likes of Puff Daddy, LL Cool J, and Steven Tyler
@bdcwire – if concerts, drinking, and random people is what it means to be a young professional in Boston, then sign me up!
@brianmcw – I don't know who this guy is but damn his photos of Boston are good, does he do weddings? #bostonporn
@thebostoncal – lastly, you really should be following The Boston Calendar. Nowhere else can you get such a diverse group of photos of the best that Boston offers
I would love to say that all the awesome pictures on @thebostoncal are captured from my impossibly robust social life but unfortunately my social life is neither robust nor is my phone picture taking skills more advanced than choosing IG filters.  We have insanely creative IGers who have adopted our account to remind you again and again why Boston is a great place to live.  Check out their personal IGs, add them, get to know them, comment with them, use similar hashtags – basically make them your new BFF.
To make this easier (managing this many people is no easy feat!), I created a list of questions for you to find out more about these crazy kids: What do you like to IG? Favorite IG? Favorite #?

Kim Windyka @kimmyloowho
What do you like to IG? Besides scenes around the city, I tend to take photos of funny, weird, or random things I encounter, places I travel to, and (of course) food.
Favorite IG? I recent discovered the @newenglandliving IG.  Gorgeous shots of my favorite place!
Favorite #? Gotta go with #foodporn
 Alexa Gallishaw @alexagallishaw
What do you like to IG? I like to instagram travel photos, pictures of Boston scenery, and photos of my cute pets.
Favorite IG? My favorite instagram is @annstreetstudio.  She's a photographer and her pictures are lovely.
Favorite #? My favorite hashtag is #dogsofinstagram because a cute pup can always brighten my day.

 Sophie Schmid @sschmid95
What do you like to IG? I like to Instagram my outdoor surroundings–whether it be an interesting building in Boston or the beautiful Maine coastline.
Favorite IG? @griffinlamb
Favorite #? #nofilter


Morgan Prudden @morganprudden
What do you like to IG? I love to instagram things that make me happy. This can be completely dependent on the day. One day it might be a latte I'm sipping on in my favorite cafe, another it could be a bouquet of flowers that I see in a window walking past, and other days it could be as simple as a cute shot of my girlfriends and I just spending time together.
Favorite IG? Such a tough question! Most of the instagrams that I follow are also the blogs I follow as well, so the articles attached to their photos definetly play into my opionion of the post. I would have to say that might favorites right now are @shopcfb, @stylecusp, and @kellyinthecity.
Brittany Jack @bjj117
What do you like to IG? All things fun, cute, and yummy.
Favorite IG? I'd say it's a tie between @benandjerrys and @natgeotravel

 Georgia Paraskevopoulou @lackylou
What do you like to IG? As you will notice my favorite instagramming is about landscapes, nature and close ups.
Favorite IG? Totally love these users: @brianmcw and @gerebakanis… and many more
Favorite #? My favorite hashtags are #freedomthinkers and #igboston.
 Anathalia Santos @anasantos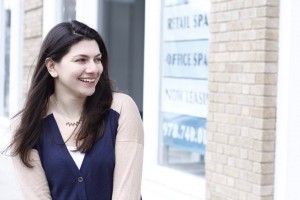 What do you like to IG? I instagram a lot! Hahaha! My favorite subjects are sights of Boston, food and my dog, Maddox.
Favorite IG? I like so many! But my current favorites are @brianmcw– love his pictures of Boston; @igersnewenglad– as a relatively new New Englander, I like that this account shows me parts of New England I don't already know; @zebrasan– the style of pictures from this account just inspires me so much! I love that there are no angles.; @macenzo– amazing architectural details.
Favorite #? I use #vscocam a lot, but I also really like #dogsofinstagram to see the cutest dogs ever and #morningslikethese to get inspired.
Kristen Manganini @thekrismix
What do you like to IG? Whatever catches my eye in Boston or on the Cape. I'm guilty of chronic foodstagramming, especially oysters.
Favorite IG? @brianmcw makes me love Boston even more.
Favorite #? #snow or #beach ..tough call.
 Mandi Rudy @mandiapril
What do you like to IG? Pictures from the Boston public garden, the Charles river, my bulldog Remy, and pictures of friends
Favorite IG? I have so many! @johnnygweir is a new favorite. I love his fashion pictures and random videos. I also love @beyonce for obvious reasons. Girl gets me to the gym!  My favorite scenery instagrammer is @bu_khaled. I just discovered his account and it's amazing! Locally, I love @thebostoncal obviously and @boston and @igersboston are favorites too.
Favorite #? #tbt! I also post to #bulldogstagram a lot and stalk #pugstagram
Danielle Rivers @bostondanielle
What do you like to IG? My family/friends, my time in Boston/Somerville/Cambridge, races/running, anything that catches my eye
Favorite IG? @igboston
Favorite #? #runboston

Eileen Devlin @eee15
What do you like to IG? I like to Instagram things that create smiles. I live in Cambridge which contains an impossible number of great photo opportunities. And of course I love to snap pictures of my pooch Stanley. My new favorite hashtag is #Stanleyhound
Favorite IG? My favorite Instagram is @humansofny. He photographs people while learning their story. Usually quite inspiring
Comments