Hasty Pudding's 2017 Man of the Year: Ryan Reynolds
By:
Ashley Barquin
-
Saturday, Feb 4, 2017 - 9:00am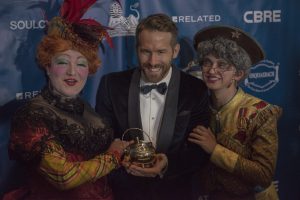 Photo by: Andrew DiLeo
"Hit me with your best shot Harvard," Deadpool star Ryan Reynolds said, sitting center stage, preparing himself for Hasty Pudding Theatricals' annual roast.
The Golden Globe nominated actor was honored Hasty Pudding Theatricals' 51st Man of the Year award on Friday, February 3, at Harvard University's performing arts center. The theatre company traditionally celebrates the Pudding Pot winner with a student-comedy roast followed by a press conference.
"It's me, your zombie wife, Blake Deadly," taunted one Harvard actor dressed in a white gown and plastic butcher knife headband, who Reynolds later gave a lap dance to.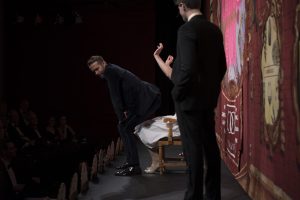 Photo by: Andrew DiLeo
"You starred in Big Monster on Campus which could have described you, if you went to college" joked another student. "I did 45 minutes of community college and it sucked," Reynolds defended.
The students even made poor Reynolds insult Massachusetts' King, Tom Brady. Hesitant, Reynolds chose to rag on Brady's voting skills.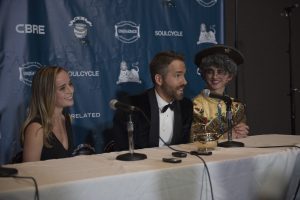 Photo by: Andrew DiLeo
At the press conference, live-streamed on Hasty Pudding's Facebook page, Reynolds touched on various topics – his time in Boston, his proudest moment as a parent, and his outlook on the importance of comedy.
When The Boston Calendar asked, "Who's a better kisser, Blake (Lively) or Andrew (Garfield)? referring to his mouth-to-mouth exchange with Andrew Garfield at the Golden Globes, the actor responded: "I'm going to go with my wife on that one, for a number of reasons. Not the least of which, is that, you know, with my wife it's going to be unleashed. … But make no mistake, Andrew Garfield is a wonderful kisser." The press room laughed.
Ryan Reynolds received Hasty Pudding Theatricals' Man of the Year award a week after Octavia Spencer received her Woman of the Year prize.
Comments