Boston Bucket List: Skyline Views
By:
Jim Martinho
-
Friday, Aug 22, 2014 - 1:19am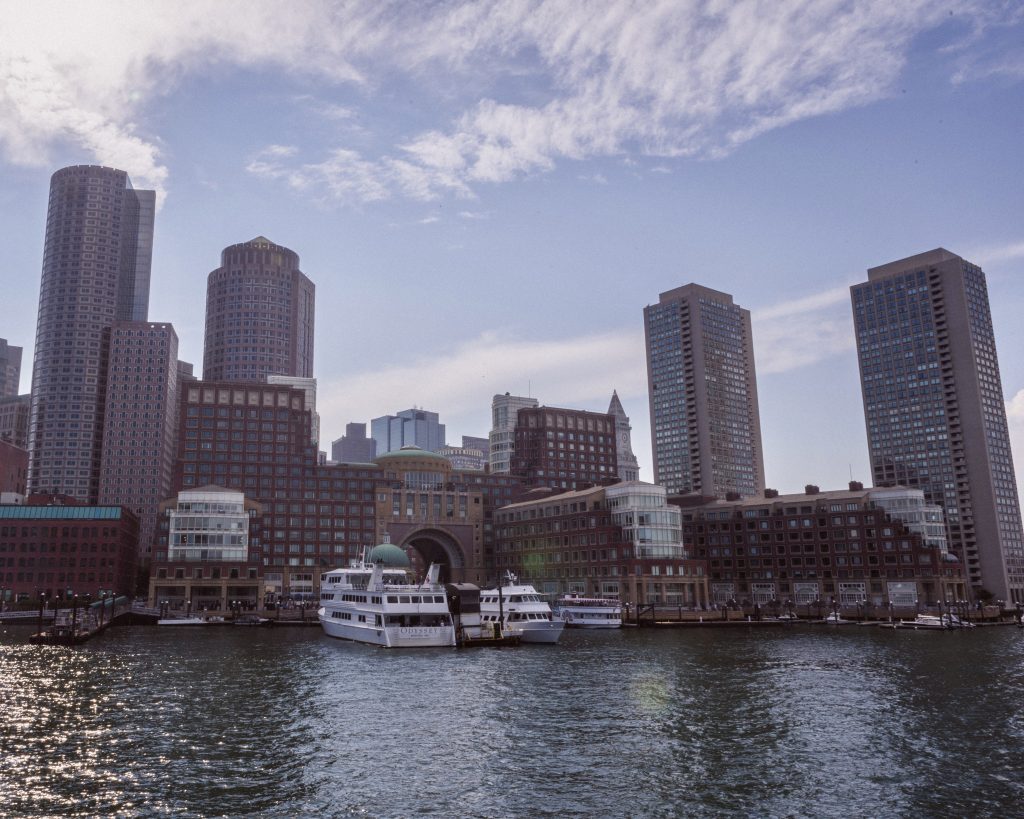 People move to Boston for college or grad school, to start a career, or to build a following for their band before they move to Brooklyn (stupid Brooklyn). When you're only here for a few years, it's easy to live like a tourist in your own city: Walking the Freedom Trail, waiting in line at Mike's Pastry, quacking away on duck boats. You'd FOMO so hard if you only knew what you were M'ing O on.
Welcome to your Boston Bucket List, an occasional series featuring the essential but sometimes under-the-radar spots you need to hit before you leave Boston. First up: Skyline views.
Boston is expensive. Most of us are living just enough for the city, and sometimes it feels like $20 is deducted from your bank account every time you step outside. But no one's figured out how to charge you for simply looking at the skyline and other scenic vistas around town — and for at least the last few weeks of summer, you can go outside and look at stuff without also seeing a cloud of your own breath in front of your face.
Enjoy it while it lasts, because we're like two years away from Google Glass/Oculus Rift making it pointless to even open your eyes if you're not looking at text on a screen.
Washington Tower at Mount Auburn Cemetery
The Old Granary Burial Ground downtown might boast more names you recognize from history class, but if you go with your parents, get ready for that awkward moment when you try not to acknowledge that John Hancock's grave marker looks like a dong. So our pick for best place to creep on dead people is Cambridge's Mount Auburn Cemetery. It's huge, with lots of cool trees and rare birds and even a sphinx. Find the mausoleum and see who can be the first to spot the a marker for someone who died just this year. Winner gets to solemnly contemplate the impermanence of existence.
At the cemetery's highest point you'll find the Washington Tower — try not to look behind you as you climb the hill then scale the steps of the 30-foot granite structure. You'll be rewarded with an unspoiled, breathtaking view in all directions. Look east to the city skyline like you've never seen it, north to the hills of Somerville, west to the Arlington Heights ridge, and south to Brighton and beyond.
Before you go, stop at nearby Middle Eastern bakery Sofra for treats from chef Ana Sortun. Because getting hangry will ruin even the prettiest of views.
The view of Boston from the top of Washington Tower. Photo credit: Robbie Shade/Flickr
(580 Mt. Auburn St, Cambridge. Red Line to Harvard Square, then take the 73 bus or a nice 20-minute walk. Photo credit: Liz West/Creative Commons)
Prospect Hill Monument
The highest point in the metro Boston area can be found just outside Somerville's Union Square. Feel your quads burn as you climb the sidewalks of Prospect Hill and a few flights of blunt wrap-littered stairs to reach a stone structure that looks like the "tiny castle" chess piece (I'm not really a chess guy).
Prospect Hill Monument. Photo credit: Anon E. Moose/Creative Commons
Don't expect to have the whole place to yourself so you can engage in some discreet make-out action with your significant other, because eight other couples had the same idea. Instead, think about George Washington raising the first American flag, known as the Grand Union Flag, atop the hill on January 1, 1776. Four thousand Continental Army troops celebrated with a gun salute, and the sight of the flag kept them going through the British siege of Boston (and significant casualties sustained in the aforementioned gun salute). They drove the redcoats out by March.
The stone tower was added in 1903 and affords sweeping views of the skyline and Cambridge. You can't go inside, so don't get your hopes up, but you can kind of peek in there. The tower's surrounded by a nice little park that's great for picnics, sunbathing, and if you're lucky, playing with puppies.
The view of Boston from the base of the Prospect Hill Monument
(Munroe St & Prospect Hill Ave, Somerville. Take the 80, 85, 86, 87, 88, 90 or 91 bus, or the Green Line extension if you're reading this in 2025.)
Cambridge Center Rooftop Garden
President John F. Kennedy wanted to make Kendall Square the headquarters for NASA's mission control center. He ordered several of the neighborhood's old manufacturing plants and industrial buildings demolished by eminent domain, but after Kennedy's assassination, Lyndon Johnson had the project moved to Houston. That's right: The famous "Apollo 13" line could have been "Cambridge, we have a problem."
The areas cleared for the NASA project eventually grew into the Kendall Square we know today, home to more than 150 biotech and IT firms. But there's more to Kendall than Google, the movie theater and hip restaurants: There's a secret garden she hides.
Here's how to find it: From the Kendall/MIT stop on the Red Line, head west on Main Street and take your first right onto Ames Street. Pass the Broad Institute on your left and make a joke about how you'd like to work at an institute for studying broads (it's actually pronounced with a long "o" like "road" but your friends don't know that). Don't walk so far that you hit Broadway, because Meadhall is on that corner and you'll stop in and drink all of the beers, but also because you'll have missed the parking garage entrance on the right. Find the sketchy-looking door next to the main entrance/exit, then take the elevator to the roof. Step out into an urban oasis.
The rooftop garden, which opened in 2001, doesn't offer skyline views to rival the others on this list, but the winding sidewalks surrounded by trees, flowers and shrubbery possess their own unique brand of peaceful magic. Eat lunch at one of the benches or tables, take in some sun, or just spend half an hour away from the rat race happening six stories below.
The expansion of Google's Cambridge offices eliminated 40 percent of the garden's square footage, because obviously they need more buildings to come up with ways to make Gmail worse every year. So much for "Do no evil."
(4 Cambridge Center. Red Line to Kendall/MIT. Author's photo.)
Parking Garage Rooftop at the
Museum of Science
Who would have thought two parking garage rooftops would make this list? What an upset. The Museum of Science is a real cool place, but if you grew up around here and went as a kid, it'll be kind of a letdown when you go back as an adult. It's like how SpaghettiOs don't taste as good as they did when you were eight, because of your highly developed palette.
It's still a great spot for a date. Not a first date, but maybe a fifth or sixth date when you're pretty sure you can stand each other's company without the comfort of alcohol. Don't be afraid to drop your "cool guy" act and get excited about stuff like electricity and dinosaurs and butterflies.
The skyline from the MOS garage. Photo credit: Bill Damon/Creative Commons

Anyways: the garage rooftop. The views of the skyline and Charles River are pretty sweet, and there's free stargazing every Friday at the Gilliland Observatory, through a high-powered telescope. Much better than that lame Pink Floyd laser show in the planetarium. You'd have to be pretty high to think that was cool (not that I've tried).
(1 Science Park, Boston. Green Line to Science Park.)
Coast & Islands
Top 5 Boston-area islands:
1. Deer Island
The view from Deer Island (with a superzoom lens). Photo credit: http://redd.it/1mq0k6
2. Castle Island
3. Revis Island
4. Georges Island
5. Spectacle Island
I know, you were expecting Castle Island to take the top spot, and it certainly has its charms: Waiting in line forever for a cheap hot dog at Sullivan's that only tastes good because you waited so long; seeing real, non-yuppie Southie townies in the flesh; getting used to the planes flying low over your head until one flies over REALLY low and you get a little scared.
But we're going with Deer Island, even if it's for the admittedly hipster-ish reason that everyone already knows about Castle Island. But also, it's just a really cool spot.
Deer Island has served at one time or another as a detention center for Native Americans, a quarantine station and hospital for immigrants, an asylum for the city's social outcasts and the poor, a theme park featuring dinosaurs cloned with DNA harvested from fossilized mosquitoes, a reformatory for juvenile delinquents, an orphanage, a prison for petty criminals, and a military post. I only made up one of those.
The island's HarborWalk includes a 2.6-mile perimeter pathway lined with interpretive exhibits, perfect for walking, jogging, fishing or picnicking. From the island's highest vantage point, you'll find sweeping views of the Harbor and downtown Boston. And don't worry: You can still see planes taking off from Logan.
(290 Tafts Ave, Winthrop. Blue Line to Orient Heights, then the 712 or 713 bus. Photo of the egg-shaped Wastewater Treatment Plant by Henry Zbyszynski/Creative Commons)
Top of the Hub
I know. I know. This is where your lame friends from the suburbs go for a fancy night out in the big city, because they don't know about the hip restaurants you read about on Chowhound. But no list of Boston's best views would be complete without the restaurant and bar on the 52nd floor of the Prudential Center.
View of Boston facing the Hancock Tower from the Top of the Hub. Photo credit: Linh Nguyen/Flickr
Get your nice clothes out of the closet. For the ladies, maybe a sundress. For the guys, some sharp chinos and a button-down (tucked in, please). Since you're going to be in the Back Bay, check out the Christian Science Center reflecting pool and the Mapparium at the Mary Baker Eddy library, which will surely appear in a future Bucket List post.
If you're hungry and it's daytime (it just seems wrong to go to Top of the Hub during the day), maybe take a walk down Boylston and get dim sum in Chinatown. Then, if it's still light out, maybe it's June and the days just last forever, Yelp the nearest liquor store, buy a bottle of wine — one with a screw top, not a cork — and head towards the harbor.
Find a bench on the water, somewhere near the Moakley courthouse, with the skyline behind you. Listen to the waves slapping against the docks. Smile at the touristy older couples walking by, the men in their sandals and socks, long past trying to impress anyone. Watch the seagulls that seem to float inches above the water, nearly coming to a complete stop before a flap of their wings sets them off again.
Hey, look at that, it's finally dark out. Start making your way back to the Pru for that big date at Top of the Hub. Or probably just pull up Yelp again, get another bottle and head back to that same bench on the water. Who needs a skyscraper with a view like this?
(800 Boylston Street, Boston. Green Line to Copley.)
Honorable mention
1. Boston Public Garden
2. Piers Park
3. Charles River Esplanade
4. Blue Hills Reservation
5. Christian Science Center
6. Memorial Drive (Cambridge)
7. Custom House Tower
8. Southwest Corridor Park
9. Lo Presti Park
10. Fan Pier Park
Comments