By:
tbcuser
-
Saturday, May 20, 2023 - 9:46am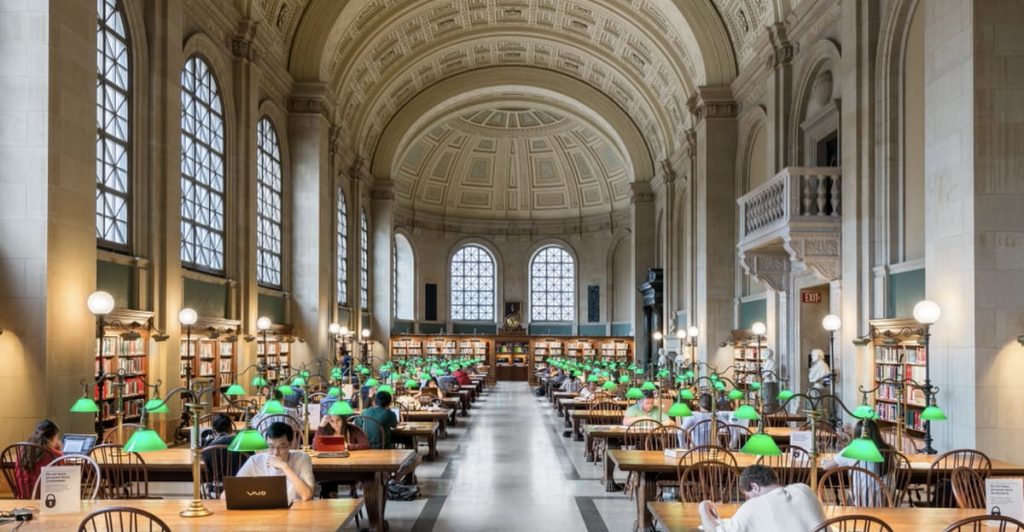 Not to nerd out on you, but we love libraries. Libraries are one of the most important public spaces in any city. They offer opportunities for growth, learning, creativity, and rest, almost always for free. And here in Boston where we take our books very seriously, we have some incredibly unique libraries to visit. These libraries go beyond the stacks of popular fiction to offer experiences and collections you can't find anywhere else.
Where: Downtown
Info: One of the country's oldest, and perhaps most beautiful libraries, The Boston Athenaeum has a circulating collection of more than half a million books, from works published in the 1800s to contemporary novels, all available for member use.
Pro Tip: If paying to join the Athenaeum isn't on your list, you can still visit on a guided tour held multiple times a week.
Boston Public Library (pictured)
Where: Back Bay
Info: The Boston Public Library is an architectural and public service triumph. The beautiful building offers thousands of books and media items to the public, as well as workspace, meeting space, historical collections, business and ESL classes, art exhibitions, and more. Not to mention high tea and a bar with literary themed cocktails.
Pro Tip: Don't miss the John Singer Sargent murals on the third floor of the historic McKim building, they're some of the most unusual and intricate works of his lifetime.
Where: Cambridge
Info: This library is the leading center for scholarship on the history of women in the United States. Here you'll find an incredible collection of journals, photographs, manuscript collections, and, of course, books, telling the stories of American women.
Pro Tip: Some of these resources, like the Black Women Oral History Project can be accessed online for days you can't make it to the library in person.
Massachusetts Historical Society Library
Where: Fenway
Info: The Massachusetts Historical Society houses more than 14 million pages of manuscripts, 120,000 images, 10,000 broadsides, and many more important books and artifacts documenting the state's longstanding history. You can utilize the society library for research or personal interest reading, but an appointment is recommended.
Pro Tip: The historical society also hosts a wide spectrum of events (many of them free) probing our history and its connection to the present day.
John F. Kennedy Presidential Library
Where: Dorchester
Info: This library is a tribute to JFK, the Brookline native President. Overlooking the ocean and situated on a ten acre park, the beautiful library is part museum, part event space, and part collection of historical documents. You can either visit the museum or arrange to utilize the research room where you can read pieces from the collection firsthand.
Pro Tip: There's a cafe located in the building and in nice weather having lunch overlooking the water is a divine way to break up your reading.
Where: South End
Info: This library is devoted to the life and work of Mary Baker Eddy, the founder of the Christian Science belief system, which centers spiritual healing. The collection of documents, art and historic artifacts, photographs, books, and audiovisuals provides a fascinating look at an organization often shrouded in mystery.
Pro Tip: While you're here be sure to visit the Mapparium, a gorgeous three-story stained glass globe that you can walk through. It's one of Boston's best kept secrets.