How to hunt for an apartment in Boston
By:
yiseowl
-
Wednesday, Feb 26, 2014 - 11:11pm
Searching for an apartment in Boston is a unique process…and a big pain in the ass. 79 percent of all rentals in Boston turn over their leases between September 1st and 14th, setting the stage for aggressive rental agents and frantic tenant hopefuls. Signing on something that's not a complete piece of shit requires some legwork and a little bit of patience. Having lived in four different apartments over eight years in Boston, I thought I'd share my experience in finding a decent place for a good price.
1) Figure out where you want to live: Budget and location are the two most important things to consider when looking for an apartment. The image below is a rental heat map put together by Jeff Kaufman — he used data from the website PadMapper. We took it a step further and added geographically accurate T stops. There's a lot of useful info packed into this little map. For example, you can identify cheaper neighborhoods by looking at cooler colors. A quick glace at the map shows somewhat reasonable prices in Brighton Center/Oak Sq, Assembly Sq, Lower Allston, Ward 2 Somerville, and certain parts of JP and Dorchester.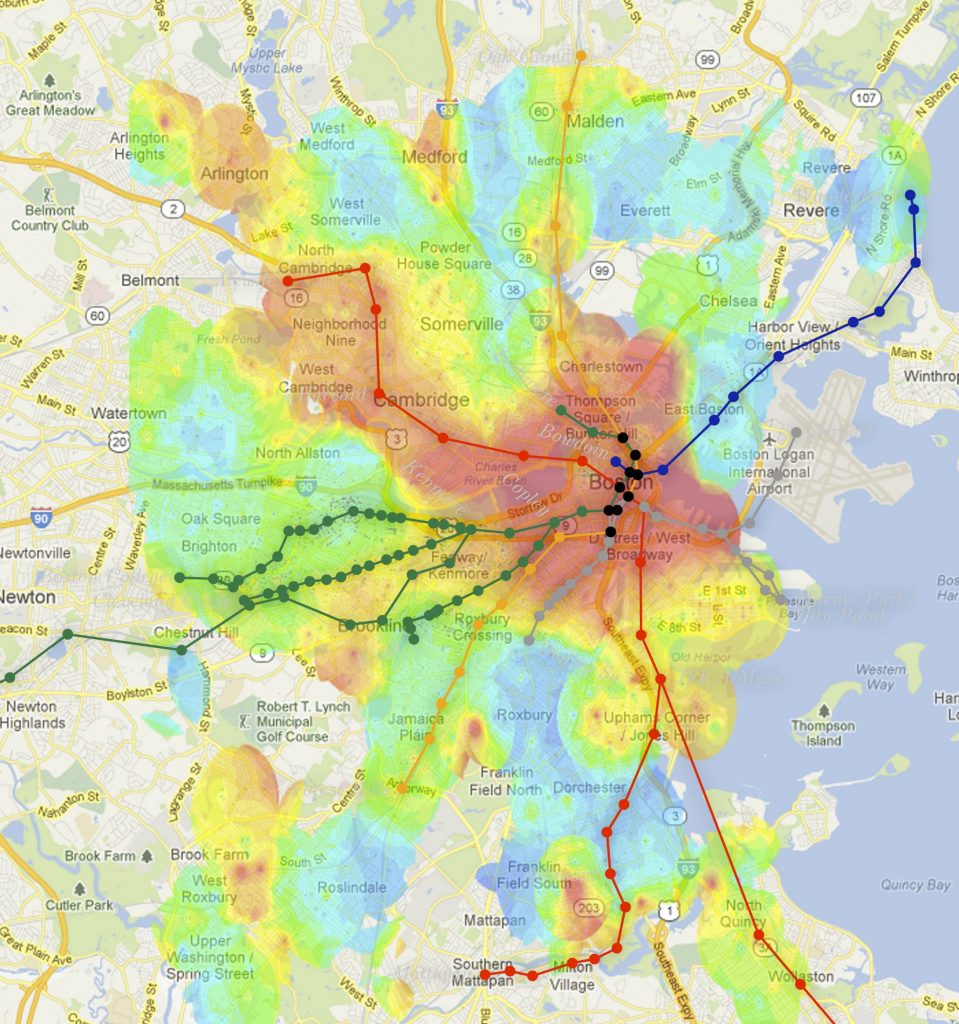 2) Use Craigslist: In terms of searching for an apartment, Craigslist is pretty much your best option, especially now that they've added their map feature (a little over a year ago). For example, here is a link to a map of 130 or so listings for apartments in Boston that have 3 bedrooms or more and cost less than $2500/month. Don't be afraid to work with multiple agents, otherwise you could miss out on great listings. Equally important, ask agents to let you know if anything meeting your criteria comes on the market. A lot of times you'll find what looks to be the perfect apartment only to find out it was already rented. Agents are usually the first to know about new rentals, and if they happen to see something you're looking for they'll give you a call — sometimes even before it's listed online.

Every student's "dream" – $1,350/month for a room. Search harder, it is possible to find a decent room in a good location for under $650.
3) Be patient: It's true, when a good place for a good price hits the market, it usually gets rented pretty quickly. The rental market in Boston is screwed up, and it's not uncommon for people to start their apartment search in January to find a place for September 1st. As the summer approaches rental agents might put pressure on you to rent, using phrases like "everything is almost gone," etc. The truth is great places come on the market all the way through June. Apartments get listed when tenants give their landlords a notice of intent to move. Some landlords require that information way in advance, others as little as 45 days before move out. So even if you're a procrastinator and don't start your search until May/June, there's still hope for you. But it's best to play it safe and start looking in February/March — that way the numbers game works more in your favor.

This is the general moving day vibe  (via @itsroccobetch on Instagram)
4) Be available: As mentioned above, good apartments get rented fast. The process of renting a place entails doing a showing, making sure it meets what you and your roommate(s) want, filling out an application, getting approved, then providing money up front (e.g. security deposit). When a quality place comes on the market you kind of need to get a jump start on the whole process in order to secure it. I remember one time a few years ago I found a place that looked too good to be true. It was in Brookline's Washington Square, had a deck, hardwood floors, dirt cheap — the whole nine. I called the agent and he told me he'd be showing the place to 12 prospective tenants that night, and if I wanted to be considered I should bring a check. He said he was essentially going to put the checks in a hat and pick one out. Fuck that. The point is the rental market in Boston does move fast and you should be prepared to put a deposit down on something fairly quickly. Equally important, you don't want to make a rash decision (see #2). Aim to look at between three and ten apartments. So long as your roommate(s) and you are on the same page and prepared to commit to something, in time you'll eventually find something great.

5) Communicate with your roommates: Being on the same page with your roommates in terms of where you want to live, how much you want to pay, and what kind of apartment you want is key. If you're looking for an apartment you're probably looking at one of three possible living scenarios: a) you will be living by yourself b) you plan to migrate/move-in with existing roommates/friends/lovers c) you're looking for new roommates. If you're looking for roommates, I personally recommend asking friends or posting on twitter/facebook to see if anyone is also looking for roommates. You can also try posting/looking on reddit Boston, CouchSurfing Boston "Open Spaces," or Craigslist. Careful on Craigslist though, it's really a mixed bag of some of the worst and best people on earth. Remember that you're committing to live with people who are essentially strangers for up to a year. Also, beware of those people looking to fill a room who invite you over for what feels like a job interview, then they have you take a personality test, etc. etc. If you're thinking about moving in with someone you met off the web I'd recommend starting with a simple beer/coffee meetup to make sure your prospective new roommate is not a douche.
6) Create a checklist: When you start looking at places it's helpful to jot down a list of things you're looking for. Is the cell reception good? Is the place in a quite area? Is it near any parks? Is the shower pressure good? Is there parking? Better yet, what are your parking options? The list goes on and on. There's a lot of things to consider, everything from will the landlord paint the apartment upon you moving in, to where the sun rises and sets, to which utilities are included (if any), and of the utilities you have to pay for what do they cost on average per month? Granted the real estate market is very expensive in Boston and most apartments are old, that doesn't mean it's impossible to find a place within your budget that meets your requirements. Consider wish list criteria too (e.g. roof deck, backyard, porch, driveway, fire pit, skyline view, green space nearby). A quick Google search for "apartment checklist" will turn up tons of results. Here is a checklist from the Chicago Tribune that's fairly decent.
I'm probably missing a tons of things here. Luckily someone created an incredibly helpful post in reddit Boston the other day titled: So You're Moving to Boston…(let's make a guide). Between the two you should be one step closer to avoiding the all too common scenario of ending up in a dump with sketchballs you met off Craigslist.
These two pictures were posted to Instagram on 9/1/13 by @boston & @colldish33 
7) Moving logistics: September 1st in Boston has become a holiday known as Allston Christmas. It's a ways off, so we'll do a separate post in a few months. But for now, three key things to keep in mind are: a) do not drive your box truck rental on Storrow Drive (you will crash into a bridge). b) reserve your rental truck/helpers way in advance. Thousands of people move on one single day in Boston, a truck/manpower shortage is inevitable. And c) stay away from Alpha Management.

Photo via the Mass State Police twitter account @MassStatePolice
Happy hunting!
Comments