LÉON Live
By:
Ashley Barquin
-
Thursday, Feb 2, 2017 - 12:00pm
"I need to say this: This is my first show of my first U.S. tour. I don't think anyone can top this."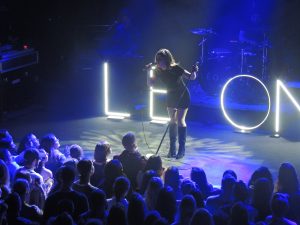 Photo by: Neelu Mohaghegh
Swedish indie pop queen LÉON performed live at the Sinclair in Cambridge last night and left the crowd in awe.
Cold beers, conversations, and college students consumed the room. Dim blue and purple stage lights gave a glow to the dark venue. The crowd started off small, but it grew.
Dressed in a black beanie and Boston Bruins jersey, British singer Jacob Banks opened the show and brought all his emotion and passion to the stage. The singer started with his song "Monster."Orange and yellow lights beamed into the crowd. "They made a monster out of me," he sang with his deep voice.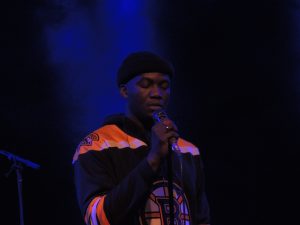 Photo by: Neelu Mohaghegh 
The song stopped and Banks began: "Good evening, I'm Jacob Banks and this is Boston." The crowd screamed. "It's my first show in America. I'm from London."
He apologized for singing "depressing shit," and yet began to sing "Unknown," leaving my body in chills. "Say that you don't want me, say you don't need me, tell me I'm a fool," he sang holding his chest and spilling his soul into the song. Banks continued to kill the show with his performances of "Silver Lining" and "Unholy War."
White lit letters reading "LÉON" stood on stage, and moments later so did she.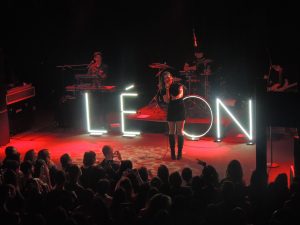 Photo by: Neelu Mohaghegh
LÉON opened her act with "Think About You" and left the crowd screaming, and thinking about how good she looks in an all black dress and black boots.
"Thank you for coming out tonight. This is nice. I just have to say, this is my first time in Boston and it feels pretty good."
The Swedish star effortlessly strutted her vocals on her hits "Sleep Deprived" and "Nobody Cares." She has no particular stage choreography, but her vocals are enough to entertain the crowd. One of her favorite moves, however, is bending her knees and lowering to the ground with the mic in her hand.
She covers Arctic Monkey's "Why'd You Only Call Me When You're High" and Fleetwood Mac's "Dreams," doing them complete justice.
Feelings and flawless vocals flooded the venue as she hits every note of "Liar." The artist looked like she was tearing up herself as she was performing.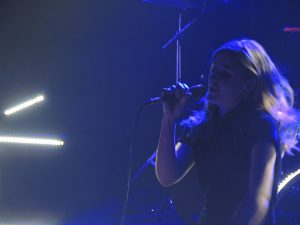 Photo by: Neelu Mohaghegh
"I need to say this: This is my first show of my first U.S. tour… I don't think anyone can top this," she said.
LÉON closed with her well-known and magical "Tired of Talking" single.
Hopefully, LÉON comes back to Boston soon. Her concert was so simple, yet engaging and emotional. She kicked off her tour perfectly.
Comments