Rihanna Receives 2017 Humanitarian of the Year Award from Harvard University
By:
Ashley Barquin
-
Wednesday, Mar 1, 2017 - 1:15pm
Photo by: @BostonTamCam
Rihanna accepted Harvard University's 2017 Humanitarian of the Year award Tuesday at the Sanders Theatre for partnering with multiple charitable institutions that promote better global education and health care.
The artist founded the Clara Lionel Foundation in 2012, the Believe Foundation in 2006, and has worked with philanthropic organizations such as UNICEF and Global Partnership for Education.
RiRi delivered a speech at the student-packed ceremony after receiving the Peter J. Gomes award, sharing her inspiration for giving back to the community.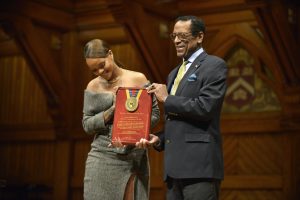 Photo by: @BostonTamCam
"When I was five or six years old, I remember watching TV and I would see these commercials and I was watching children suffer in other parts of the world," the Barbados native said. "The commercials were, 'Give 25 cents and you save a child's life,' and I would think to myself, 'I wonder how many 25 cents I could save up to save all the kids in Africa.'"
Rihanna further urged the audience to give back to the community themselves.
She said: "All you need to do is help one person, expecting nothing in return. To me, that's a humanitarian."
The Harvard Foundation celebrated the singer through musical performances by the University's Kuumba Singers and speeches from the students and dean.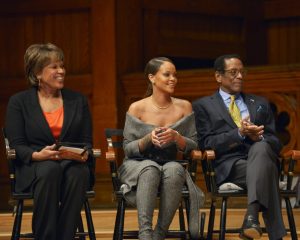 Photo by: @BostonTamCam 
"Thank you for inspiring us to use our abilities to work, work, work," joked a student speaker, referring to the artist's hit single.
Check out the TBC's Twitter and Instagram posts from the event.
Comments