The Ten Spring-iest Spring Events in Boston (Because Spring is Seriously Almost Here)
By:
Jim Martinho
-
Tuesday, Mar 20, 2018 - 12:57pm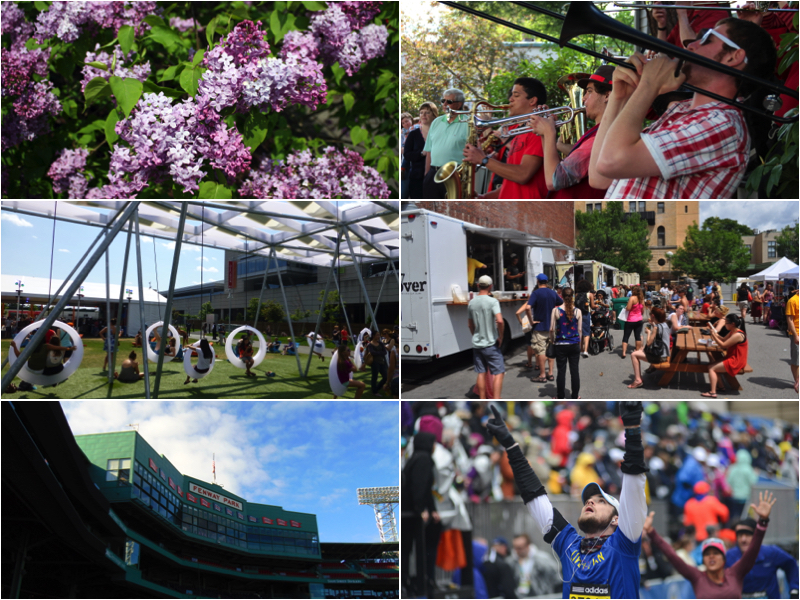 Today is the first day of spring. Another nor'easter is on its way to dump even more snow on top of three blizzards worth of old snow. Both of those things are true. But it's also true that any day now it's going to warm up and all this snow is going to melt and you're going to forget all about winter like it was a bad date. So take today to mark your calendar with ten of Boston's biggest and best annual spring events that will be here before you know it.
1. The 122nd Boston Marathon
Boston likes to pretend we do a lot of things better than anywhere else, but it's actually true for the marathon. If all the marathons all over the world got together and competed in a marathon, the Boston Marathon would win and it wouldn't even be close. The third Monday in April brings together the entire city and everyone is just weirdly happy: college kids still learning to pace their day drinking, workers celebrating a day off when the rest of the country is in the office, runners smiling through 26.2 miles because it's way better than a winter of training runs through snow and ice. Every other city hates their marathon because it screws up traffic; in Boston, it's the best day of the year.
Monday, April 16 | Event website
2. Somerville Porchfest
It almost happened. It almost rained on Porchfest last year. But a drizzly morning gave way to an overcast and chilly afternoon and the bands played on — more than 200 of them, pros and amateurs alike, all for free, on porches and stoops and driveways and backyards all over Somerville. For one magical day we agree to suspend laws against public consumption of alcohol and don't think too much about the condos popping up all over town and rising rents pushing out the artists that made Somerville and Porchfest so great in the first place. Right now, Will Dailey is strumming a banjo and singing one of his expertly crafted pop songs. Tigerman WOAH! is sweating through their overalls and powering through another set of punk-rockabilly tunes and maybe an Elvis cover. A toddler runs up to hug his dad's leg, briefly interrupting dad's only gig of the year. An elderly man with a walker stands up to dance to a New Orleans-style brass band; two years later you'll tear up a little just thinking about it. It's Porchfest and it might be the only good and true and free thing left in this crazy world.
Saturday, May 12 | Event website
3. Boston Calling Music Festival
There's not much ammo left for the haters of the annual Memorial Day Weekend music festival. Headliners never seemed as cool as other festivals? This year's slate led by Eminem, The Killers, and Jack White is the darling of the summer festival circuit. The concrete dystopian hellscape of City Hall Plaza took a toll on both atmosphere and acoustics? The move to Allston's sprawling and grassy Harvard Athletic Complex last year took care of that. That diva Natalie Portman said she was going to be there and she didn't come? Well she's coming this year, along with a side stage of top comedians and podcasts. Aging media members who didn't pay for tickets anyways are always going to complain that the bathroom lines were too long or there weren't enough food options or getting an Uber was too hard. No urban music festival is perfect, but Boston is a better place with Boston Calling.
Friday to Sunday, May 25-27 | Event website
4. Red Sox Home Opening Day
You don't need tickets to the game to be happy that the Sox are back at Fenway. Actually if you do have tickets I hate you a little bit, like I hated the kid in elementary school who got to miss school to go to the opener every year. For the rest of us, the start of baseball season is a reason to peace out of work a couple hours early and head to the bar, just happy to take in a sport played outdoors in the sunshine on impossibly green grass. This field, this game — it's a part of our past, Ray. It reminds us of all that once was good, and it could be again.
Thursday, April 5 | Event website
5. SoWa Open Market
It doesn't matter that SoWa will never catch on as a neighborhood moniker like New York City's SoHo; at this point both are too expensive for artists or anyone interesting to afford to live there anyways. Don't let that stop you from living your urban fantasy every Sunday from May through October at the SoWa Open Market, featuring more than 150 vendors plus a beer barn, live music, lawn games, and food trucks. Walk or take public transportation to check out the offerings from local artists and artisans, filling up your canvas tote bag with fresh vegetables from the farmers' market. How European of you!
Sundays beginning May 6 | Event website
6. Harvard Square Mayfair
If you're old enough to remember when Harvard Square was cool, you're really just remembering when you were cool. The burgers at Tasty Burger are probably objectively better than The Tasty's, no one really liked the crusty punks hanging out in the Pit, and it's actually kind of nice that no matter what bank you use there's one or five ATMs so you don't need to pay extra fees. One thing that's lasted through Harvard's shopping mall-ification over the past 35 years is the massive Mayfair festival, a rite of spring drawing more than 150,000 people annually to take in multiple stages of live music and dance performances, plenty of beer gardens, the "Chalk on the Walk" sidewalk art displays, and lots more.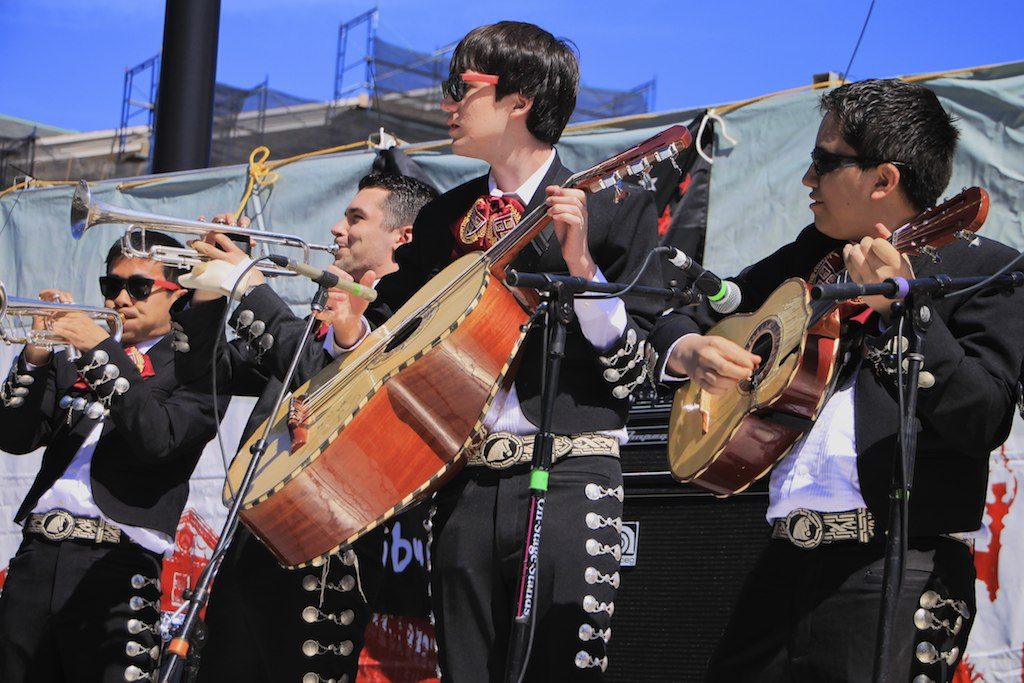 Sunday, May 6 | Event website
7. The Lawn on D
I'm sure the Lawn on D's presenting sponsor would like me to mention them whenever I talk about the South Boston outdoor event space, but you know what? The government has been nice enough to banks this year so I'm not going to! Take that! For all its bragging about being a "first-of-its-kind" and "innovative" public space, the Lawn on D's popularity basically comes down to: Drinking outside in the nice weather is fun and there aren't many places to do that in Boston. Sure everyone has to take a photo on those swings for Instagram, and its event calendar is stocked with live music, festivals, fitness classes and more when it's not closed for a private event. So I'm happy to see the Lawn on D return for 2018 (the exact date hasn't been announced yet; last year it opened on May 21). But what's stopping the city from throwing together pop-up beer gardens on the Common or other public parks? All you need is local beer and wine vendors and a few tents and lawn chairs. Other cities do this. The Lawn on D is great. Aeronaut Allston and the Trillium Garden on the Greenway are great. Outdoor drinking is great. Cheers to more outdoor drinking and also to someday ending corporate welfare for predatory bankers.
Opening in Late May | Event website
8. Swan Boats Opening Day
Full disclosure, I've never taken a ride on the Swan Boats. I've never taken a Duck Tour. I'm sure they're both fine but I grew up in Boston and that stuff is for tourists. Still, the difference is if the Swan Boats disappeared forever I'd be sad (the Duck Boats can gladly FOH until we need them for the next championship parade). There's just something about strolling through the Public Garden — yes, Garden, not Gardens, there's only one, just like there's only one Common and if anyone says "Boston Commons" feel free to correct them or silently judge them forever — anyways, it's just nice to stroll through the Public Garden as a Swan Boat drifts lazily along and it's that perfect temperature where it's not too cold or too hot or too humid and you're almost not even aware of weather as a concept. The Swan Boats are probably also a nice thing to do with your parents or significant other if they're visiting from out of town — it's OK, they're the tourists, not you.
Opening Saturday, April 14 | Event website
9. Lilac Sunday
Jamaica Plain's Arnold Arboretum hosts one of the premier lilac collections in North America, and it's the only flowering plant in the arboretum singled out for an annual daylong celebration (you know that just pisses off all the other flowers). Lilac Sunday actually dates back to 1908. Put your phone in your pocket for a few minutes and try to imagine yourself living back then: People didn't really have movies or good music yet and like 99% of jokes were super racist, so looking at a pretty flower was kind of the pinnacle of entertainment. They waited all winter for the lilacs to bloom and then it was so exciting they threw a big party. Lilac Sunday is also the one day a year you're allowed to picnic in the arboretum, making for a pretty perfect Mother's Day activity. Just don't wander too far off the main paths or you might run into a homeless person's encampment with a boot hung over a clothesline. Sure you're as woke as the next guy or gal but your mom might not be and Mother's Day probably isn't the best occasion to alert your mom to the systemic institutional problems that allow the homeless epidemic to persist.
Sunday, May 13 | Event website
10. Reenactment of the Battle of Lexington Green
OK so I only know like one person who's ever gotten up way before the crack of down to make it out to Lexington for the 5:30 a.m. reenactment of the Shot Heard Round the World and subsequent battle, but I respect the tradition. Every year, history dorks dressed as Minutemen and British Regulars recreate the skirmish — great word, skirmish, just really fun to say — that kicked off the revolution and gave us a day off from school or work on Marathon Monday. It's also a nice way to remind Philadelphia that Boston is the one true birthplace of this country. We invented America and freedom here and have the battle scars to prove it. Philly just happened to host the meeting to sign a document because it was centrally located and Ben Franklin threw sick parties. Furthermore, yes the Eagles won the Super Bowl but they'll never be a dynasty like the Pats. OK I'm done now. 
Monday, April 16 | Event website
—
Comments